The diet peach and chicken breast, the magic soup, the dissociated diet, the diet in which no protein is taken or the one that includes all the proteins in the world … Isabel Llano, known as Isasaweis, confesses that at least Throughout his life, he "did all the diets that were and to be" but achieved the same result in all of them: as soon as he abandoned the diet, he regained the lost weight. This succession of forbidden foods, impossible combinations, minuscule amounts, hunger and sadness made him feed, in addition, a dangerous spiral that led him to discouragement, frustration and lack of self-esteem. But there came a time when he took control of his life and entered the path of change in which there was not a single diet, but there were some Healthy habits that he hasn't left since. For almost a decade, he has shared his path and his experience on social networks (he managed to lose 20 kilos forever). And now that struggle to have a healthy relationship with food and to incorporate sport into his life "once and for all" has taken the form of a book with '
Eat great and don't diet anymore'(Ed, Planet) with the aim of supporting and encouraging other people to do it too.
The book includes more than 100 recipes that are those that Isabel Llano prepares at home on a daily basis. You can find soups, vegetables, meats, fish, legumes … Some can constitute a complete meal in a single dish and others can serve as an accompaniment to a main dish. But they all have, in addition to a healthy background, a common goal: enjoyment. In fact, according to the author, most of the recipes that she shares in the work have been the result of improvisation, but also the result of combining the healthy foods that she likes the most. "You can't force yourself to eat something you don't like to lose weight. I create recipes on the fly and the first thing I think about when I prepare a dish is that it is rich. Then I look for the best ingredients to make it healthy and to provide all kinds of nutrients, "he says. That is why he confesses that in his fridge there is never a shortage of seasonal vegetables "because they are the ones that are at their best nutritional moment and are also at the best price", nor other staples such as eggs, lean meats, fish and legumes.
Exercise, an essential
But eating a healthy diet will not be enough to feel good if you do not exercise, because Isabel Llano does not conceive of a healthy life in which sports are not practiced daily. What it does clarify is that when we think about exercise it is important that we try to avoid the idea of ​​"killing ourselves in the gym" because what it is about is to keep the body strong and healthy, the mind clear and a great state of mind . And although he recognizes that it is true that to have a strong, energetic and beautiful body it is necessary to do strength exercises, he insists that the great value of sports practice is what it contributes on an emotional level. That inner strength, that ability to overcome, that optimism and that possibility of seeing life in a different way is something that, he says, comes with sport, an engine that fuels many other things. That is why he explains that he would never tell anyone to eat healthy and stay quietly on the couch. "If you add the mental and physical strength that sport gives to how good you feel eating healthy, you get an 'everything' from which you will never want to leave because you do not want to stop feeling as good as you feel," he explains. In fact, she confesses that she is also lazy to exercise and that she does not get up every morning wanting to lift weights, but rather wanting to stay a little longer in bed, but that what drives her to overcome laziness is to remember How you feel after: "It activates me, gives me energy, helps me focus better, puts me in a good mood. How am I going to stop doing something that does me so much good? », He asks.
What it is, therefore, is to be happy, to feel good. That is why the author invites you to connect with everything that allows us to take care of ourselves: «Just as you enjoy your loved ones to share good times with them or your lonely moments to get to know yourself better or to practice your hobbies, you also need to find in the food, exercise and rest which benefit you and help you take care of yourself, "he proposes. That is why he invites you to follow the 10 commandments, which he explains in detail in his book and which we point out here in the form of headlines:
10 commandments to be happy
1. You are going to eat everything.
2. Proportions and portions, the key to success!
3. Sugar and bad processed, out!
4. Free fruits and vegetables!
5. Never stay hungry
6. Drink water.
7. You are going to exercise in two types: cardio and strength.
8. Adapt this change to your tastes and your life
9. You can (and should) indulge yourself from time to time
10. The path to success is not a straight line, there will be peaks.
These 10 commandments that the author raises are the ones that, as she proposes, will serve as a reference to incorporate a routine that allows us to lead a healthy lifestyle.
And to internalize this change in an easy and rewarding way, invite them to know the recipes that they usually prepare in their day to day and challenge the followers of ABC Bienestar to prepare one of the most applauded among their friends and family: the couscous salad with salmon and smoked cod.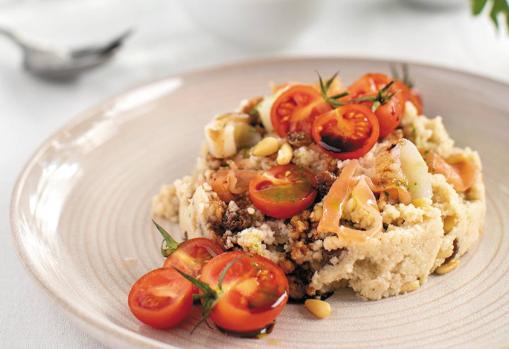 In the comments of this recipe that appears in her work 'Eat great and do not diet anymore' the author says that sometimes she also adds chopped pickled anchovies. «If I prepare this salad for a special day, I assemble it with a plating ring and garnish it with the cherry tomatoes, the oil, the basil oil and the balsamic reduction.
Preparation
I put the raisins in a bowl with water to cover them and I let them soak.

To prepare the basil oil, I put a saucepan on the fire with water and, when it starts to boil, I add the basil leaves. I let them boil for 30 seconds, scoop them out with a slotted spoon and put them in a bowl of very cold water for a few seconds. I take them out, echo them with kitchen paper and put them in the blender jar. I add three fingers of EVOO and grind.

I put another saucepan on the fire with two glasses of water, a thread of oil and a level teaspoon of salt. When it starts to boil, I add the couscous and the teaspoon of butter and cook over low heat for 2 minutes while stirring with a fork. I take off the heat and dump the couscous into a salad bowl.

I cut the smoked salmon and cod into thin strips and put them in the salad bowl with the couscous. I add the pine nuts, drained raisins, and halved cherry tomatoes and mix everything gently.

I dress the salad with the basil oil, mix it slowly and serve it with a string of balsamic vinegar reduction on top.
About the author: Isabel Llano (Gijón, 1976), better known as Isasaweis, is a technical computer engineer who more than twelve years ago began to give practical advice on the internet about cooking, beauty and lifestyle. On his social networks, Instagram, YouTube, Facebook and Twitter, he shares videos and publications that accumulate millions of views. In addition to working on television, radio and the written press, he has published the books 'La cocina de Isasaweis', 'Healthy cooking to enjoy' or 'Don't complicate yourself with dinner!'.
See them
comments

www.abc.es